Yes, finally the last touches are being added and we are ready to open our house and finca for guests. Time to pop the cork!
The first bookings are coming in and soon we are also live on Airbnb.
And, since temperatures are soaring, we are installing a swimming pool. A big round over-ground thingy, 17.4 m3, 1 m deep which will give us some refreshment during the hottest months here when we won't make it to the beach.
In the meantime another fiesta in Almonte is in preparation.
But first I want to tell you about our experience with the Romeria, which takes place each year at Pentecost.
El Rocio – The Romeria at Pentecost, see  https://rove.me/to/seville/el-rocio-pilgrimage  for footage and general information.
El Rocio is a town build on sand, therefore all its streets are pure sand and predestined to be used by horses, riders and carriages.
It also is a pilgrimage town, where throughout the year the brotherhoods, 'hermandados', meet to prepare for the biggest of the fiestas, the Romeria, at Pentecost. Last year we were just leaving for Portugal, when the throng of carriages, waggons and riders descended upon El Rocio. This year we watched the build-up in Almonte, where children and whole families were beautifully dressed in traditional costumes and flamenco dresses. Little girls complete with flowers in their hair, lipstick and dresses. Even little boys looked like their fathers in traditional leather riding boots, cummerbund, white shirts and hats, a lovely sight.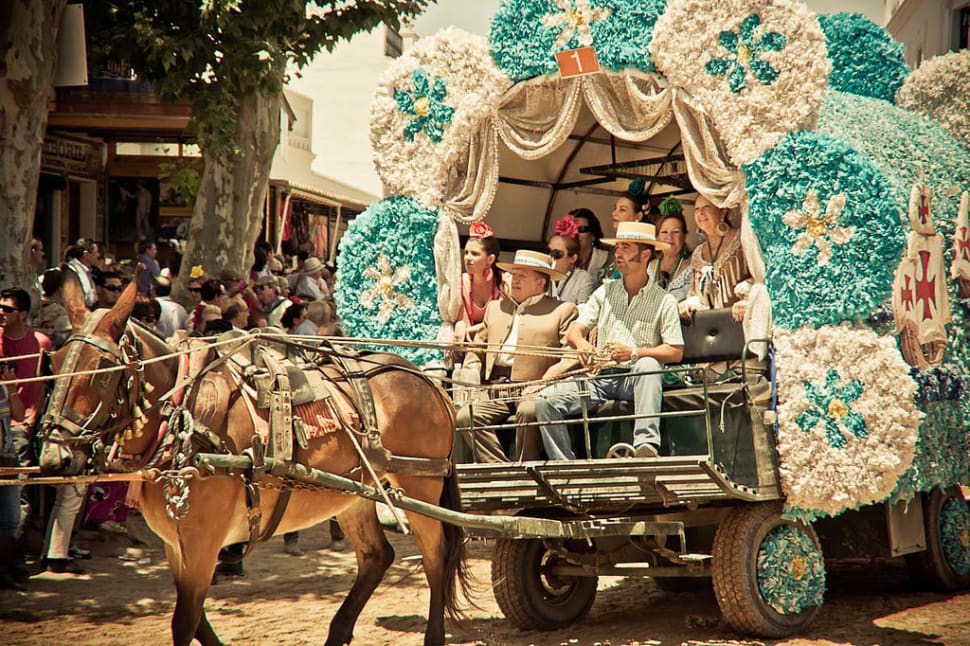 Some of the pilgrims passed-by our entrance.
We are people that shy away from crowds. This is our excuse, for this year anyway, not to join in the festivities in El Rocio. Instead we watched the religious fervour unfold on the television. There is a whole channel devoted to going-ons in Donana, the Nature Reserve and area here which includes Almonte, Matalascanas and El Rocio and the Donana National Park. This is a very catholic celebration of the Virgin of El Rocio, La Paloma Blanca, the white dove. Every hermandado has a float, richly decorated with flowers, drawn preferably by oxen or horses or mules. There are prayers, incantations and blessings. Not really our style. And to be wedged in between nearly a million dressed-up followers in the beating sun isn't really our idea of fun.
However, we sneaked into town at sunset on the Sunday. Therefore my photos are very dark and some were too wobbly, as catching the carriages driving by or riders and lady's on horseback proofed too much for my limited photographic talents. On this evening, an almighty downpour drenched the town and the revellers and big puddles need to be negotiated.  The floats are proudly displayed in a separate tent beside the place for the bow-top caravans for families that do not own a house in El Rocio. It is very much a family festivity and there does not seem to be much alcohol involved.
El Rocio, circa 15 kms from our house, at night: